Charming cottages for rent in Dordogne Perigord

Charming holiday cottages
in Dordogne Perigord

Gîtes Lacombe in Black Perigord: A family history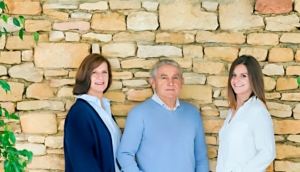 The history of Gîtes Lacombe began in the early 1980s, with the purchase of the "Petits Moulins", which were former outbuildings of Château de la Roussie in Poissans. We live in the heart of the Périgord Noir and a stone's throw from our home, this completely ruined complex was ideally located between the Vézère Valley, the Dordogne Valley and a few kilometers from the Medieval City of Sarlat.
Back then we were only farmers, producing tabacco, walnuts and breeding pigs and we wanted to diversify our activity. We spent pleasant moments renovating this lovely mill as a family.
During the works, an English seasonal rental agency came to greet us by offering us an interesting rental management proposal! At that time, the Dordogne was still "in its own juice" barely known for its caves. It was the start of tourist activity and the Périgord quickly aroused the enthusiasm of holidaymakers.
Driven by our love of old stones, in 1987 we invested in 4 groups of ruined houses, to be renovated at our own pace and always with the family. Apart from the plumbing and electricity, we took care of all the work, including our agricultural machines for the structure of the house.
These renovations were completed in 2004, thanks to the help of our entire family which has since grown. We have 3 children including 2 who work with us. Since 2008, our daughter Audrey provides rental management, which is now done exclusively by us.  Today we have 10 houses to rent, a new renovation project is in progress…
Some of our cottages before and after renovation
Self-catering holiday Cottages in the Dordogne
We selected groups of houses with a lot of character, beautiful stones and interesting panoramas. Our cottages are located in 3 communes of the Périgord Noir: Saint-Crépin Carlucet, Tamniès and Proissans. Carefully renovated to enhance their charm, respect the natural environment and offer great amenities, they all have swimming pools. Some lodgings are autonomous and independent, others are grouped together in hamlets with large common areas. Some are nestled in nature, others on the heights with a superb view of the Périgord landscapes.
We take care of the management of the lodgings, we welcome holidaymakers, and make sure that they have everything they need. We take care of  green spaces, as well as swimming pools. Our vacationers appreciate our availability, as much as their freedom and autonomy, according to their needs. For a family vacation, this is an ideal choice, to be as comfortable as at home. You will enjoy moments of relaxation in our lodgings while enjoying all the major tourist sites, the most beautiful villages and all the nature, cultural and leisure activities of Périgord a few minutes away. We hope that you will find the perfect accommodation for your holidays with family or friends with us, and that you will have a wonderful stay in Périgord.
Famille Lacombe